Fakultätsveranstaltung 2019
Am 28. Juni 2019 lud die Fakultät für Informatik MitarbeiterInnen zur jährlich stattfindenden Fakultätsveranstaltung ein. Dekan Prof. Gansterer und SPL Prof. Polaschek präsentierten einen Rückblick über das vergangene Studienjahr, danach wurden verschiedene Auszeichnungen verliehen.
Am Programm standen:
Begrüßung neuer FakultätsmitarbeiterInnen
Lehre
Zielvereinbarungsgespräch 2019 (Budgetverteilung neu)
Leistungsbilanz 2018
Neue Entwicklungen, Fragen
Best of the Best 2019
Unter dem Titel "Best of the Best" wurden die Leistungen verschiedener FakultätsmitarbeiterInnen in folgenden Bereichen prämiert:
Third Party Funding Period 2014 - 2018
Successfully Acquired Project Funds 2018
A/B Publication Strategy (Gruppe Prof./Habilitierte)
A/B Publication Strategy (Gruppe PostDoc)
A/B Publication Strategy (Gruppe PraeDoc)
Zudem wurden der Beste Studierende aus dem Studienjahr 2017/18 ausgezeichnet.
Die Auswahlkriterien dafür sind: Studiendauer (Grundstudium), Noten und der Umfang des jeweiligen Studiums.
Die Fakultät für Informatik freut sich über die hervorragenden Leistungen von:
Bachelor
Tamara Drucks (Informatik mit Spezialisierung Bioinformatik)
Cordula Eggerth (Wirtschaftsinformatik)
Claus Hofmann (Informatik mit Spezialisierung Data Science)
Master
Patrick Pazour (Medieninformatik)
Zum Abschluss lud die Fakultät für Informatik die anwesenden TeilnehmerInnen noch zu einem Buffet ein.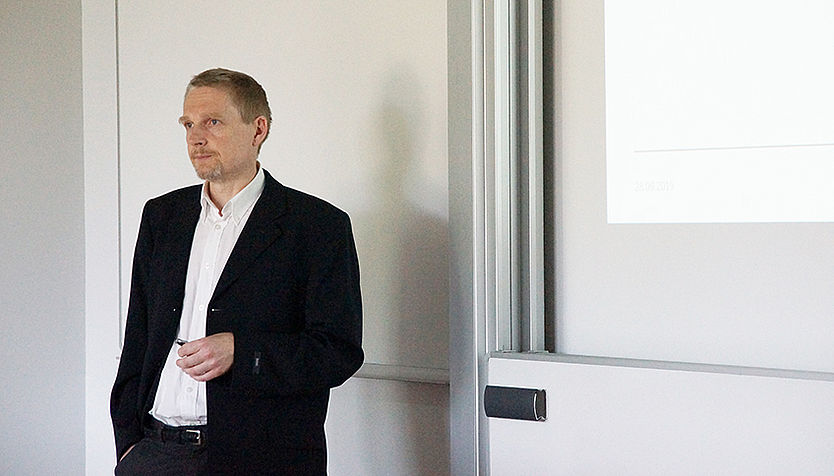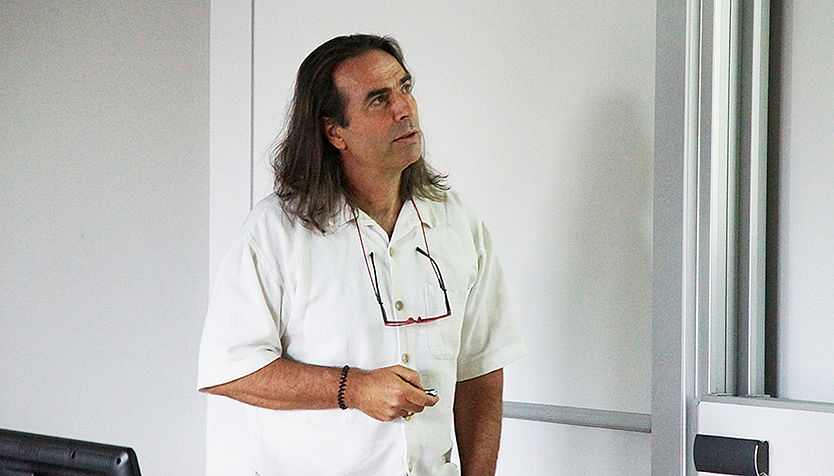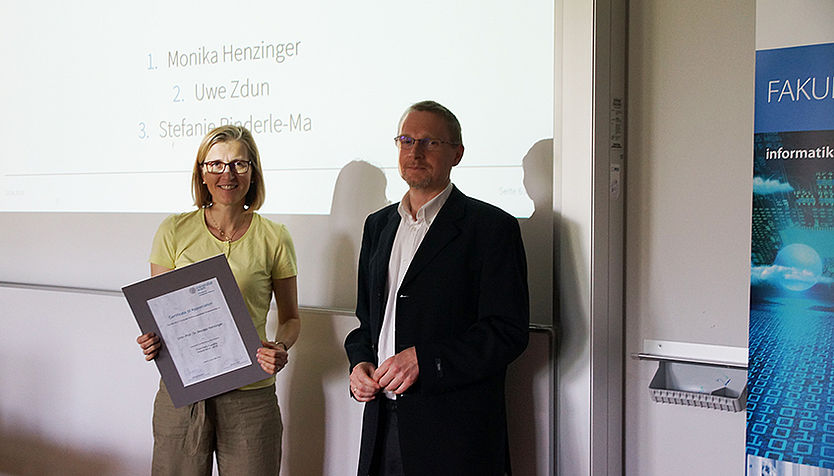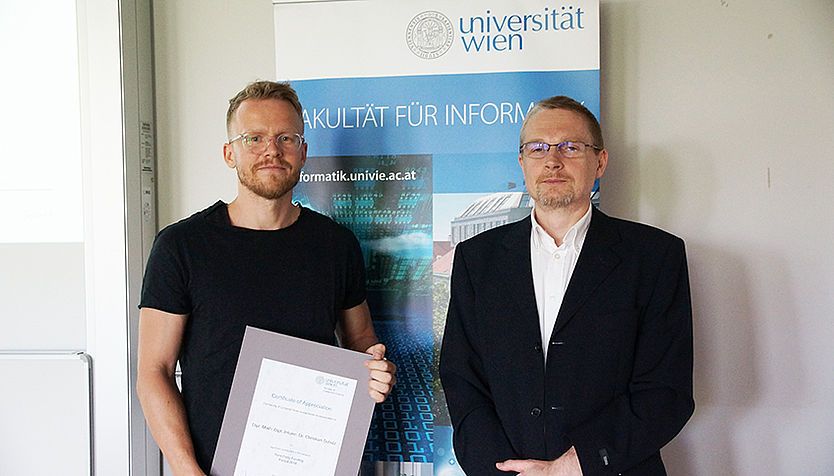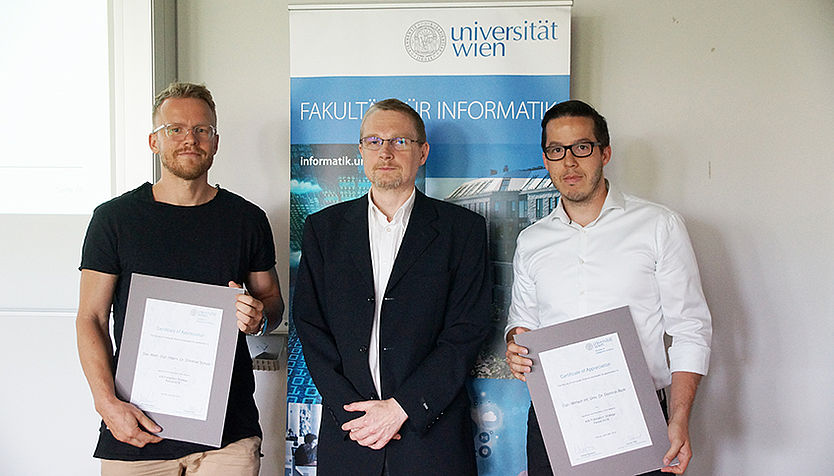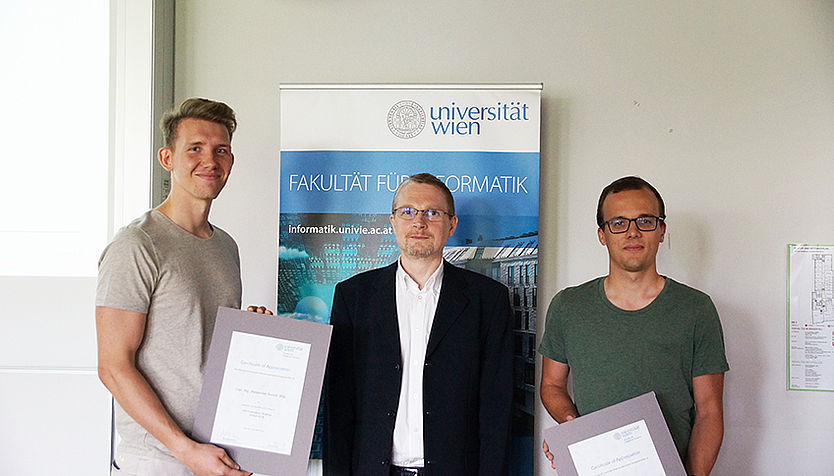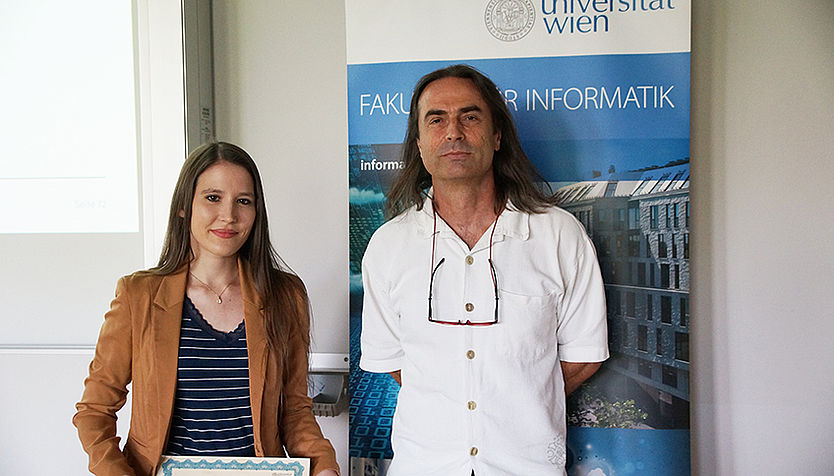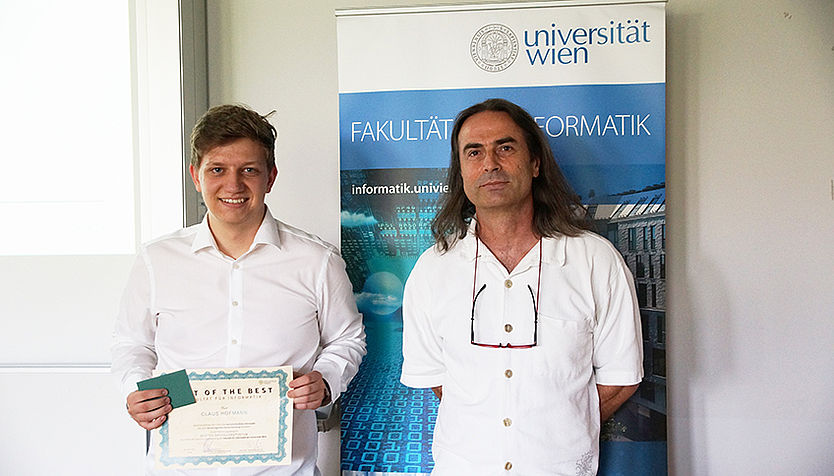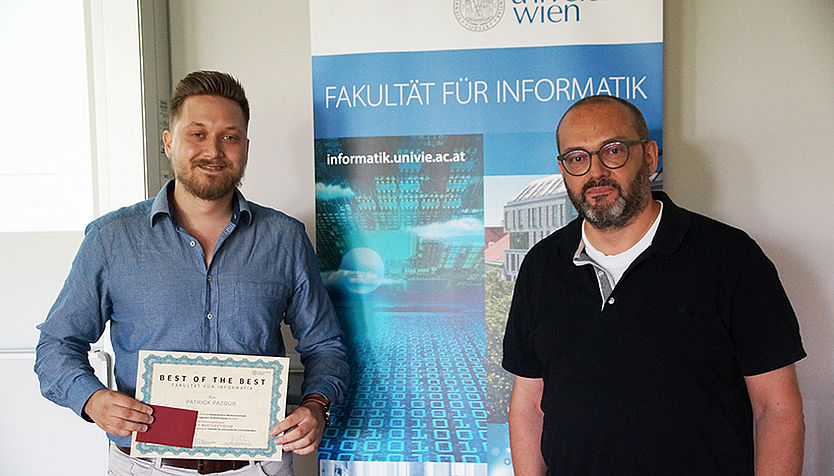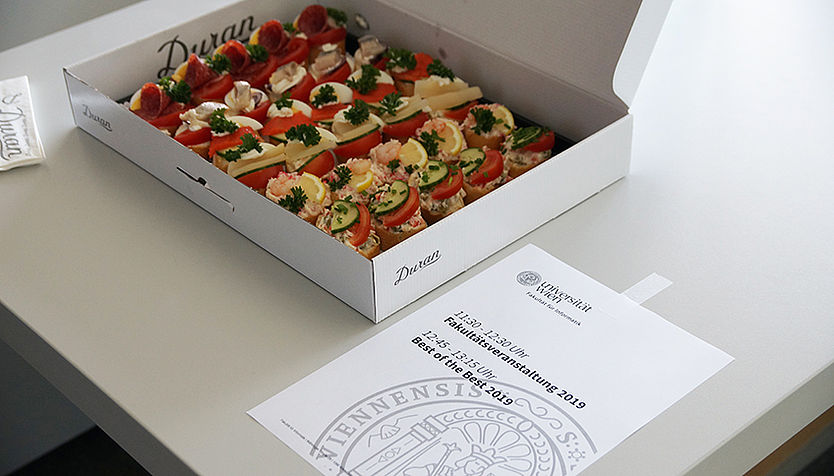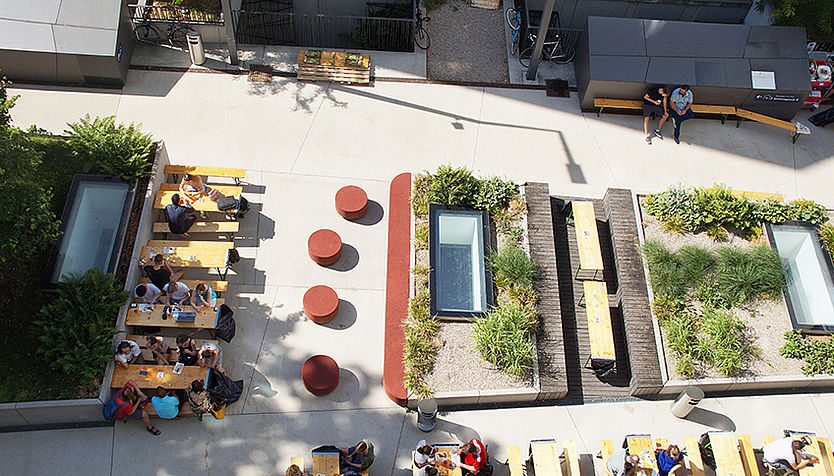 Alle PreisträgerInnen nach Kategorien
Third Party Funding Period 2014 - 2018:

Univ.-Prof. Dr. Monika Henzinger
Univ.-Prof. Dr. Uwe Zdun
Univ.-Prof. Dipl.-Math. oec. Dr. Stefanie Rinderle-Ma

Successfully Acquired Project Funds 2018

Dipl.-Math. Dipl.-Inform. Dr. Christian Schulz
Univ.-Prof. Dipl.-Math. Dr. Peter Reichl
Univ.-Prof. Dipl.-Math. oec. Dr. Stefanie Rinderle-Ma
Univ.-Prof. Torsten Möller, PhD

A/B Publication Strategy Period 2018 (Gruppe: Prof./Habilitierte)


Univ.-Prof. Dr. Stefan Schmid
Univ.-Prof. Dr. Monika Henzinger
Univ.-Prof. Dipl.-Math. oec. Dr. Stefanie Rinderle-Ma

A/B Publication Strategy Period 2018 (Gruppe PostDoc)

Dipl.-Math. Dipl.-Inform. Dr. Klaus-Tycho Förster
Dipl.-Math. Dipl.-Inform. Dr. Christian Schulz
Dipl.-Wirtsch.Inf. Univ. Dr. Dominik Bork

A/B Publication Strategy Period 2018 (Gruppe PraeDoc)

Gramoz Goranci, M.Sc.
Alexander Noe, M.Sc.
Mahmoud Parham, B.Sc. MSc
Srdjan Stevanetic, MSc
Dipl.-Ing. Alexander Svozil, BSc